Keeping Peace This Holiday Season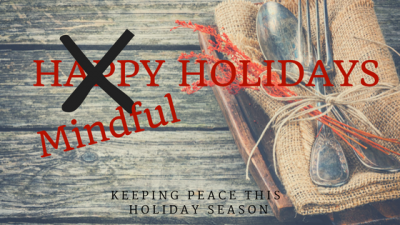 Christmas cards and commercials are created to make us feel as if every waking hour from Thanksgiving to January 1 should be filled with magical moments with family and friends. We're socialized to appear "happy" during these celebratory times of year. We know this isn't always the situation. Rather, the last two months of the year tend to make people feel guilty and ashamed if you don't feel happy and joyful. Instead of trying to muster up the "happy" of the holidays, consider spending your energy mindfully approaching the season:
1. Validate your feelings
. Experience the range of feelings, and remind yourself you need not react. Instead of telling yourself, "I shouldn't be feeling this way because…" remind yourself that, as a human, feelings are a normal part of a healthy life. Allow yourself to feel and find a response that will be more helpful to move you toward how you want to feel.
2. Cope ahead. Rather than resorting to reactions in the midst of the hustle and bustle, consider taking action before the frenzy begins. Remind yourself of the challenges of previous holidays and plan a potential response. For example, if holiday parties tend to tempt you into engaging in more festive eating and drinking than you are comfortable with, make sure you pack your can of Sprite or give yourself some parameters to follow at the buffet line ("at least two vegetables before a dessert!"). Then when you arrive you can choose to follow what you already know to be best, rather than making decisions with social pressure or emotion involved.
3. Feel it. If you notice your body or mind shifting toward frustration, anger, or grief, name the feeling. Remind yourself that you are allowed to feel. Find a safe place to share the feelings – a close friend or a loved one who will hold space for you. After this, you may feel more freedom to move on to the next feeling.
4. Simplify. Choose wisely how you will spend your precious time and eliminate the parts that are beyond your capacity. No one else gets to dictate how you celebrate a holiday. Consider ordering the holiday dinner, traveling during the holidays or donating to a charity rather than spending money on gifts.
Though the holiday season comes with challenges, give yourself the space to experience the wide range of feelings – joy, grief, love, temptation – as a whole person.