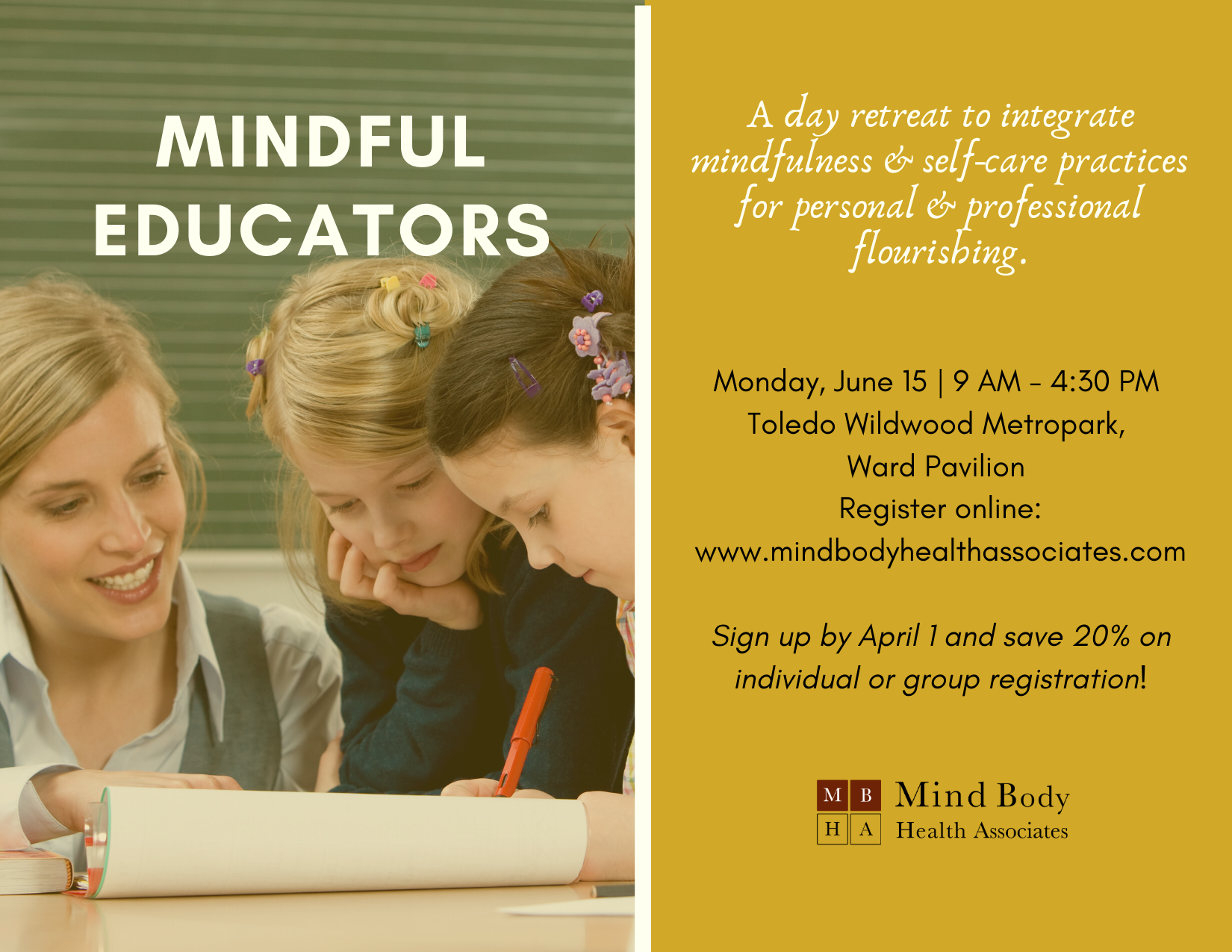 Monday, June 15, 2020, 9 AM – 4:30 PM
Mindful Educators is a day-long retreat experience designed to help teachers return to the spark of joy that drew them into their profession so they can return to the classroom ready in heart and spirit. We will apply the concepts of mindfulness to your role as educator, providing tools for the mind and body that will help nurture your passion through the stressful challenges of teaching to the souls of our children.
Those who will most benefit from Mindful Educators are those who: 
See how the effects of trauma are changing our schools and neighborhoods,impacting the classroom experience for all students

Hear in the media and scholarly research about the effects of body-centered and mindfulness-based classroom interventions and want to experiment with them

Taste the bitterness of burnout and "helper's fatigue" and wish to reconnect with a deeper sense of gratitude for their work

Feel as if they've tried varying methods of connecting with students yet feel some are still "unreachable."
Mindful Educators is led by Holly Schweitzer Dunn, LISW – and facilitator of Mindful Parenting – along with Landon Dunn, LISW, LICDC, of Mind Body Health Associates. Holly, Landon, and the MBHA team have been working with educators for a collective 25+ years to help them learn to manage the stress that comes from the unique role of teacher. They will offer specific interventions and practices for educators to integrate into their lives, both personally and professionally, to help teachers reconnect with the sense of fulfillment of their work. 
Allow us to take care of you in the peaceful setting at Toledo's Wildwood Metropark in the Ward Pavillion. You'll receive a full day of therapeutic tools and interventions used by our therapists who regularly work with educators. Our approach integrates the body-centered practices with mindfulness to help aid relief from the physical manifestations of embodied stress. You'll be guided in mindfulness exercises, including nature walks and time for solitude and reflection, along with an opportunity to explore yoga movement and breathwork. There will even be a chance to discuss how these personal practices can be translated into the classroom.
Don't forget to bring your Yoga Mat or Pillow!
Cost and Registration Information:
Cost: Before April 1: $75 individual, $400 group of 6
Before May 15: $90 individual, $500 team of 6
Please complete the following registration form after completing your payment. Thank you!