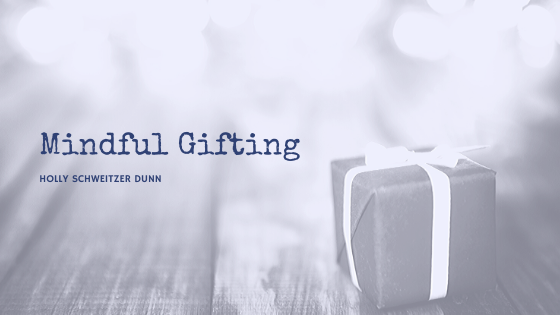 As the season of giving draws closer, we encourage folks not to let the pull of constant consumerism to take over, but to rather intentionally give to loved ones from a place of gratitude. Therapist Holly Schweitzer Dunn compiled a list of options of thoughtful yet classical gifts that pay attention to how the product was made, arrives, and serves the good of humankind. We also asked other MBHA team members to share their favorite way of gifting thoughtfully. 
Give Hope: Eau de Parfum. A beautiful act of embodying an ideal every day!
Get Out of My Head: Inspiration for Overthinkers in an Anxious World by Meredith Arthur, friend of Landon & Holly and founder of the mental health platform Beautiful Voyager.  This book is written from her experiences with anxiety (Generalized Anxiety Disorder) and offers real-life strategies to help calm the mind and ride the wave of anxiety without getting taken under.
Red Vegan Snakeskin Hollywood Bag: a personal favorite on Holly's list this year, made with mindfulness of our animal friends.
FW19 Tote Project: 10% of the gross profits from this collection are donated to Two Wings to support survivors of human trafficking in the US.
Clutch 4 Oil Pack: B3 Gives Back is donating 10% of profits from the sale of the Clutch 4 Oil Pack to the Women's Independence Scholarship Program, Inc. (WISP). The gift of radiant skin with a social conscience.
Hair Despair: Sometimes you just need a reboot. Save Me From's mission is to create wellness-boosting, sophisticated and powerful personal care products that empower all people to find purpose, realize their potential and know they have the power to accomplish greatness.
Looking to do more good internationally with your giving? Michele's friend runs an Ohio-based retail & online shop, Pachamama's Market which sells fair trade, eco-friendly and handmade items. Buying from a local retailer that guarantees fair wages for international suppliers is a win for everyone! Michele's absolute favorite is the Amazon basket collection. There's free shipping for orders over $50 until December 31st (in the continental US). Similarly, Ten Thousand Villages in Bluffton runs a similar concept store for you to browse.
Receptionist Michelle Cheney loves to think creatively and locally for her giving. She frequents for unique items to repurpose, such as an old fashioned saw she found and then painted with the logo of the lumberyard where her father spent his career.
Andrea, the office manager loves experiential giving, especially close to home. Her favorite gift is a pair of tickets to the Marathon Performing Arts Center coupled with a gift certificate for a downtown eatery like Rosilli's.
Therapist Rachel Tincher loves to share her gift of words, regularly penning letters or cards for her family members. A beautiful card, poem or expression of love can be as effective as the right present. (Don't have the right words at the right time? Emily McDowell Studios has an amazing collection of cards to keep on hand for just that occasion.)