The Heavily Meditated Teacher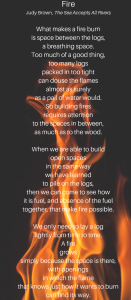 When you come to the Mindful Educators retreat, one of the elements woven into the day is the importance of establishing a personal meditation practice. The elements of quieting the mind, noticing the breath and allowing thoughts to slide through awareness are essential to living and teaching mindfully.
It's okay if you're not ready to sit on your zafu pillow for an hour each morning! Taking a quiet 10-minute walk or spending the first 90 seconds in your classroom with eyes closed and breathing deeply are valuable forms of mindfulness. Small doses repeated through the day are powerful ways to keep your steady pace. 
A meditation practice puts space into your day and into the way your brain functions. As the training ground for patience and peacefulness, it's a way to practice slowing down our reactions. Much of the hurried day, we have a thought that we automatically believe. A mindfulness practice teaches us to notice first that a thought has arisen, and then gives us the opportunity to decide if it's true. From that moment, you move from reacting to responding. Ideally, mindfulness gives us permission to allow the thought to pass without response.  We become less automatic in our need to do something about the thought. It is just a thought.
Mindfulness is the space that allows you to breathe through your day. It's this space that allows you to thrive in your work and can prevent burnout by allowing the emotions and the thoughts to move through you, rather than overcome you.  
So what does this actually look like? A heavily meditated teacher is one who likely: 
Responds rather than reacts

Draws emotional boundaries to keep from over-personalizing others' behaviors

Feels a connection with students that goes beyond academics

Changes the pace of the day and activity to best suit student (and teacher) needs

Feels the freedom to be creative in their unique art of teaching- even within the confines of traditional educational expectations

Has a peace corner or quiet zone in the classroom that anyone can use at any time

Understands his/her energy drives the energy of the classroom and self-regulates accordingly

Exudes joyfulness and contentment

Refuels the passion that drives their work
With cramped classrooms and schedules filled to the hilt, teachers are the first to recognize a need for space and time. But as one teacher has said, "you will never find time, you can only make time."  Creating space in your life to breathe and move mindfully might be one of the best and healthiest adjustments to your lesson plans you make this year.